NBA Community Reacts to the POTUS' Tweet On Threatening
NBA Community Reacts to the POTUS' Tweet on Threatening the People Protesting Over George Floyd's Death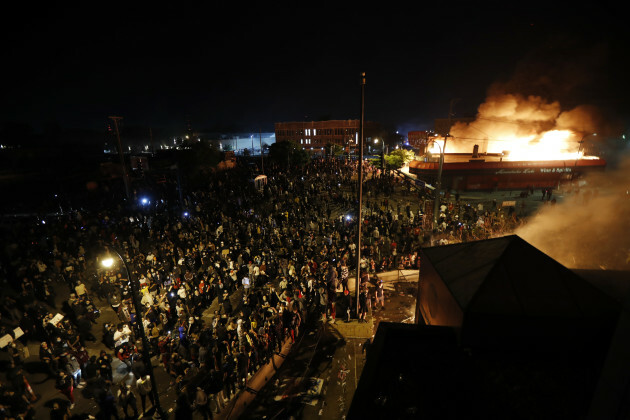 The worlds flamed with rage when they came to know of the murder of a 46-year-old man in Minneapolis. The death of George Floyd in the custody of four policemen left everyone in anger, including those
who are a part of the NBA
.
George Floyd was pushed down to the ground by policemen who were attending his case for suspected forgery. One officer manhandled Floyd, who is of African-American descent. The Caucasian policeman held Floyd to the ground by pinning his neck forcefully with a high-pressure knee press. The 46-year-old died due to severe suffocation from the force used by the cop.
Owing to the police brutality, the people of Minneapolis took to the streets to protest against the incident and directed the killing of the cops who were involved in the incident. As the protests grew wild, Donald Trump posted a tweet that further infuriated the citizens who breached police departments and other public places demanding justice. The tweet didn't end up well with anyone, as a few from the NBA community posted their reply to the POTUS' tweet.
NBA fraternity reacts to Trump's harsh tweet
Donald Trump posted a tweet asking the Governor of Michigan to handle the protests lightly. This came in the wake of people entering public spots and gathering the items they could find. Trump advised the Governor that the people want their safe lives back and that their acts denote the same.
However, in a more recent tweet, Trump clearly crossed the line with an insensitive post, threatening the lives of his countrymen. He wrote, "
These THUGS are dishonoring the memory of George Floyd, and I won't let that happen. I just spoke to Governor Tim Walz and told him that the Military is with him all the way. Any difficulty and we will assume control but, when the looting starts, the shooting starts. Thank you!"